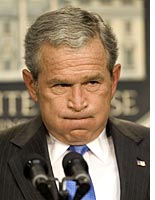 "
This, after all, is the president who invaded Iraq
without the slightest understanding
of the country's ethnic composition or of the volcanic tensions that toppling its dictator might unleash. Complexity has no place in his schemes. Choices are never cloudy. The world is divided into the forces of terror and the forces of freedom: The one's defeat means the other's victory."